Accommodation
The workshop will be held at Orea Hotel Pyramida where accommodation of workshop participants is recommended. The hotel offers a special conference rate at 58 EUR on single occupation or 65 EUR on double occupation including breakfast. This special rate is offered for December 15 – 19, 2007. Please make your bookings as early as possible (before November 30, 2007) by filling the following secure on-line booking form.
The address of the hotel is: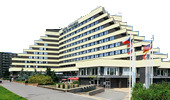 OREA HOTEL PYRAMIDA
Belohorska 24, 169 01 Praha 6
Czech Republic
tel.: +420 233 102 273
fax: +420 233 357 312
50°5'8.94"N,14°22'49.78"E
---
Travel Instructions
As a popular tourist destination, Prague is well connected to European countries. There are direct flights to Prague International Airport - Ruzyne (PRG) from most capitals in Europe and from some overseas countries like U.S.A. and Canada. The national airlines are Czech Airlines (CSA) which are a member of SkyTeam. Many low-fare airlines have flights to Prague, e.g. SmartWings operate from Prague.
How to get to the hotel from the airport by public transit?

First you have to buy a single ride public transport ticket which costs 20CZK, either at a newsstand inside the terminal or from a ticket machine at the bus stop, which is located in front of the terminal. To buy tickets from the machine you will need coins. The ticket is valid for 90 minutes on weekends and off peak on weekdays (only 60 minutes peak hours on weekdays) which should be enough even for the most distant hotels.
Once you have the ticket board bus No.119 (its schedule is posted at the bus stop), validate the ticket (time stamp) and enjoy the ride. Go all the way to its last stop, which is "Dejvická" (about 20 minutes ride). From "Dejvická" use bus no. 149 or 217 to stop "Malovanka" which is close to Orea Hotel Pyramida (see also information about the workshop venue).
International trains are usually going to Holešovice station (Nádraží Holešovice) or to Main Station (Hlavní nádraží) which are both well integrated in the public transport system. There are Metro (underground/subway) stops directly accessible from the lobby of train stations (Metro red line C). How to get from Metro to the hotel, see information about the workshop venue.
Travel documents: Czech Republic is a member of the European Union so all EU citizens can travel to Prague with an ID card. Citizen of non EU countries will require a valid passport and citizens of some overseas countries may require visa so please check with your foreign department prior the journey.
Important Dates:
Submissions: October 5/12, 2007
Notification: November 5, 2007
Early registration: November 16, 2007
Final versions: November 19, 2007
Workshop: December 17-18, 2007
Organization:
Roman Barták
Charles University, Czech Republic
bartak@ktiml.mff.cuni.cz
Milena Zeithamlová
Action M Agency, Czech Republic
milena@action-m.com